The Healing Power of Bone Broth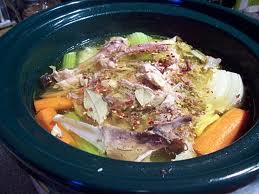 Bone Broth Recipe: The healing benefits for your gut, your immunity and your bones!

Homemade broth is rich in calcium, magnesium, phosphorus and other trace minerals.  The minerals in this broth are easily absorbed by the body. This provides wonderful benefits to boost your immune system. Bone broth also contains glucosamine and chondroiton – which are thought to help mitigate the deleterious effects of arthritis and joint pain.  Rather than shelling out big bucks for glucosamine, chondroitin and mineral supplements, just make bone broth and other nutritive foods a part of your regular diet.

Homemade bone broths are often rich in gelatin.   Gelatin is an inexpensive source of supplementary protein.   Gelatin also shows promise in the fight against degenerative joint disease.   It helps to support the connective tissue in your body and also helps the fingernails and hair to grow well and strong. Finally, it provides the substrates and matrix for healing the tissue in the gut.

The flavor benefits of broths far outweigh the packaged/ canned varieties!

Bone broths are remarkably inexpensive to make.  By using the bones from leftover roast chickens matched with vegetable scraps you've saved, you can make a gallon of stock for pennies.
Homemade Bone Broth
The measurements on this do not have to be exact.  You can use ANY leftover vegetables to make a stock and can replace the chicken bones with beef bones (marrow bones, knuckles, etc.) to make beef, duck or lamb stock.
Ingredients:
Carcass from at least one chicken, duck, turkey or marrow bones from grass fed meat
10-15 sprigs each of fresh dill, parsley, thyme. whole peppercorns, fresh garlic,  leftover vegetables like carrots, celery, roots like parsnips or turnips, leeks
Water to cover
1-3 Tbsp of apple cider vinegar ( this supplies the acid to break down the cartilage and bones)
Directions:
Fill large stock or crock pot with vegetables, herbs, garlic, vinegar and cold water to cover bones.  Simmer on low for 8-12 hours.
The only attention the pot may need is to skim the foam or "impurities" off of the top every once in awhile.  It's an optional step, but produces a clearer broth.
Once finished, pour the entire contents into a large fine meshed strainer suspended over a very large bowl or pot and save the solids and bones for your dog or cat!
Allow the broth to cool and pour into separate individual containers.  Refrigerate. A great bone broth will produce a nice gelatin after refrigeration.  This makes anywhere from 4-5 quarts.
Leave a Reply
You must be logged in to post a comment.