Every year in our Fresh Start Detox program, I teach some basic recipes that can help people detox naturally using food. This is one of the easiest basic recipe you can use all year long. Pesto is a great way to sneak in lots of parsley and cilantro into your diet. Why? well because they both act as a mercury magnet. I use a big spoonful over my poached or grilled fish to help detoxify from the mercury naturally found in most fish these days.
Here is the recipe: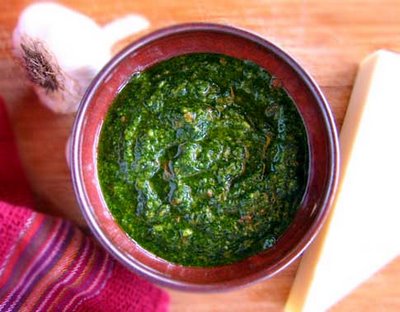 Fresh Herb & Pumpkin Seed Pesto
2 Cloves Garlic
1 C Pumpkin Seeds
1/4 C Olive Oil
1 t Lemon Juice
Pinch Salt (optional)
1/2 C Coarsely Chopped Herbs: Parsley, cilantro, dill and basil all work well_ I choose to use mostly parsley and cilantro
With magic bullet or food processor running, drop in cloves of garlic. Let process until garlic is chopped. Scrap down sides of the processor. Add pumpkin seeds, olive oil, lemon juice and salt. Process until very well combined and you have a pesto consistency. Add chopped herbs. Process until well combined.
Try a dab on fish or make an appetizer with slice of tomatoes, and dab of pesto …sprinkle with a dash of balsamic vinegar..Yum!!
BTW, Pumpkin seeds are a great source of Magnesium, which is the fourth most plentiful mineral in your body. Your bones are where you will find 50% of it. The rest of it can be found in your organs and tissues, with 1% in your blood. Magnesium is involved in over 300 of your bodily functions! Sprinkle some pesto on your food today!
 
Make a double batch and store in refrigerator. Will keep for about 2 weeks.
Click the link to  more about our 10 day Fresh Start Detox program– Next program starts Spring 2017 . Click the link below if you want your name added to the list