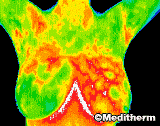 There are many approaches you can take to prevent breast cancer (or any cancer), including the dietary changes and lifestyle modifications we recommend listed at the bottom of this article.
If you are young (in your 20's) and have a strong family history of Breast Cancer,   you need a radically different strategy for screening for breast cancer. You may think that mammograms are the ideal screening tool to give you a warning stage before the cancer becomes far more difficult to treat. Unfortunately, this is not always true.
That's why we don't recommend mammograms.  They expose your body to radiation that can be 1,000 times greater than a chest x-ray which makes you vulnerable to further risks of radiation-induced cancer.
Here's our recommendations: Schedule a Breast Thermogram to check for  the Inflammation in your breast tissue Before it becomes an Issue.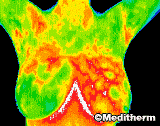 What is a Thermogram? This tool creates a digital map of your body that illustrates heat patterns — patterns that may detect some condition or abnormality. It uses a scanning-type infrared camera that measures your body surface temperature, presenting the information as a digitized image. These thermal images (called thermograms) are analyzed for abnormalities that may be signs of disease in your body.
And unlike most diagnostic tests, thermal imaging is:
Not painful…
Non-invasive…
Quick – your multi-image exams usually take less than 30 minutes…
Plus, it: Makes no contact with your body — with no body part compression (such as what you might experience with mammograms)
Emits absolutely NO radiation
How are Thermographs Different From Mammograms?
Mammograms look at anatomical changes in the breast, as they detect masses or lumps in the breast tissue. On the other hand, thermograms look at vascular changes in the breast, as they detect blood flow patterns, inflammation and asymmetries.
Thermograms benefit all women. They may be particularly useful for young women who want to monitor their breast health before the recommended age of 40. Actually, your breast cancer prevention should start as early as possible.
Here at Nourishing Wellness Medical Center, we prefer not to over-prescribe too many diagnostic tools, drugs and procedures, because many of them do nothing to help you prevent disease and enhance your health. So realize,  that when Doc Peters endorses thermography he has looked at the benefits for you — and found them significant.  Even if you're feeling OK today, it's good to have a baseline thermogram done now, so you'll have something to compare to if anything ever pops up down the road.
So if you're female, please don't go the mammogram route. Consider thermography part of your annual health prevention regimen every October.
If you live in Los Angeles, we recommend you call  Dr Diane Jordan DC to perform your Thermogram.
Tips to Enhance Your Breast Health:
1) Enhance your estrogen metabolism and detoxification pathways
One of the strongest associations with breast cancer concern is higher levels of circulating estrogens in a woman's body, particularly after menopause. Leading-edge research suggest breast health is partially determined by how well we convert and excrete estrogen metabolites in the body. This means effectively transforming both the estrogens that naturally occur in our bodies and xenoestrogens, or those that your body encounters through your diet and environment. Some sources of xenoestrogens include plastics and hormone or anti-biotic fed meat. We now know that heavy exposure to xenoestrogens can increase some women's risk for developing breast cancer. Most environmental toxins and our own toxic hormone byproducts are flushed out through the gut and liver, but if toxins like xenoestrogens build up, they can block natural elimination and provoke a cascade of health issues, including weight gain, inflammaliktion, and hormonal imbalance, which can in turn, increase your risk of breast cancer
Tip: Reduce your exposure to all plastics and chemicals. Switch to drinking your water out of a Sigg bottle or glass bottle. Don't microwave your meals in a plastic container. Switch to using all natural beauty products and cleaning supplies to lessen  your toxin load on your body.
2) Eat Your Greens and Cruciferous Vegetables for Toxin Elimination
Aim to eat a serving of either greens or cuciferous vegetables every day. Why? The active ingredients in these foods supports hormone balance and detoxification in the liver, gut and the lymphatic system of the breast. A study presented by Sherwood and colleagues, showed that women who eating 4 servings of vegetables a day excreted threefold more estrogen in their feces, had lower urinary excretion, and had 15-20% lower plasma estrogen levels. The above studies show a positive correlation between high plasma levels of estrogen and consumption of fat, as well as, a negative correlation with consumption of high fiber diet.
Eating Tip: Aim to buy a few servings of cruciferous vegetables each week such as cabbage, brussel sprouts, broccoli, and cauliflower. If you don't eat enough of these vegetabes and are at risk for breast cancer, we highly recommend adding in the supplement  DIM Avail  (Diindolylmethane)  to your regimen to provide the nutrients that can break down these toxins in the liver and lymph. We always have this supplement on hand so call Cassi at 310-373-7830 and she can send or set one aside for you. 
3)  Vitamin D3  Supplementation can Half your Risk of Breast Cancer
Here is some compelling evidence by Dr. Cedrick Garland in his 2006 Science  article showed that individuals with higher Vitamin D levels (above 52 ng/ml) had 50% lower risk of breast cancer than those with a lower vitamin D level (serum <13 ng/ml).
Eating tip: We recommend taking 5000-10,000 IU /day of Vitamin D3 with a fat source to keep your serum vitamin D above 50ng/dl. We recommend Designs for Health Vitamin D supreme. This brand provides a clinically higher dose of vitamin D3 along with vitamin K1 and the MK-7 form of K2. Vitamins D and K are essential for optimal bone and arterial health and for maintaining the immune system in proper balance.