At the Nourishing Wellness Medical Center, we encourage all of our clients to follow a gluten free, paleo type diet ( no added grains) to help keep blood sugar levels low and steady all day. This recipe gives you a healthy dose of colorful carbs, healthy fats from the avocado along with lean protein to fuel you through your active day. Enjoy and share it on your FB so others can enjoy this simple meal or snack,too!
4 skinless chicken breasts( no hormone added)  (about 2 pounds total)

1 quart organic low sodium chicken broth or vegetable broth

garlic cloves, finely chopped

1/4 cup fresh basil, chopped

1/4 cup fresh parsley, thyme, cilantro, chopped ( use whatever fresh herbs you have on hand)


roasted bell peppers (red or yellow peppers), skin removed and diced (recipe below)*

salt and pepper to taste
Mustard Herb Dressing:
·½ cup fresh parsley, basil, cilantro, dill or combo of all four, tightly packed
·3 tablespoons apple cider vinegar or lemon juice
·1 tablespoon Dijon mustard
·1/4 teaspoon sea salt
·1/4 cup extra-virgin olive oil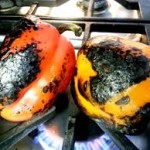 To Roast Bell Peppers:
Preheat oven to 45odegrees.  Line a baking sheet with foil or parchment paper, set aside.  Cut the peppers in half and clean out the seeds and innards. Place them on a baking sheet skin side up.  Bake peppers for 15 to 20 minutes. Once the skins are brownish-black, remove from the oven and immediately place the peppers in a large paper bag.
Close and let sit for 20 minutes or so (or until the peppers have time to cool and "sweat"). Once they have cooled you will be able to peel the skins right off. What you will have left is a moist, wonderfully cooked pepper. Yummy!


For Chicken Salad:
Put chicken broth in a large pot with a lid and bring stock to a simmer.  Add the chicken breasts to the pot.  Return the broth to a simmer for 4-5 min. Cover the pot.  Turn off the heat.  Let the chicken steep in the stock for 20-30 min until cooked through but tender. While the chicken is cooking, chop the other ingredients – basil, cilantro, dill, parsley, roasted bell peppers – and add to a large bowl.
When the chicken breasts are cooked, remove them from the broth and let them cool. Then, shred the chicken breasts into bite-size pieces by hand.  Mix the chicken pieces in with the rest of the ingredients.
To Make Dressing:
In the bowl of a food processor combine parsley, basil, apple cider vinegar, mustard, garlic, and salt.  While food processor is running slowly add olive oil in a small drizzle.  You may have to stop the food processor to scrape the sides.  You want the mixture to come to a liquid consistency.  Add fresh ground pepper to taste.
Add dressing to chicken salad and toss to combine.
Serve chilled or at room temperature.  Or inside a halved avocado.  Take an avocado, remove pit, and place chicken salad in the inside.
Makes about 6 to 8 servings of salad